Know BEFORE You Design and Install Your Landscaping
If you want landscaping that survives the seasonal weather changes and thrives in your yard, it is important to incorporate plants, trees and shrubs that grow best in your climate. Gardeners and landscapers rely on the USDA Plant Hardiness Zone Map when selecting plants. The map, which is based on regional average annual winter temperatures, indicates which plants are likely to survive winters in that area. Generally, the lower the zone number, the colder the area's weather.
Each plant is associated with the appropriate hardiness zones. This codification system can help you determine the most appropriate plants for your landscape design. Winter damage typically occurs when plants are out of their "comfort" zones. So, it's important to select the right plants for the right region if you want them to survive and thrive.
New York's Hardiness Zones
Large in size, New York has a multitude of hardiness zones. There are 5 hardiness zones spread across the state, further delineated by sub-zones. Rockland County, which is in the south eastern part of New York, falls within hardiness zones 6b and 7a.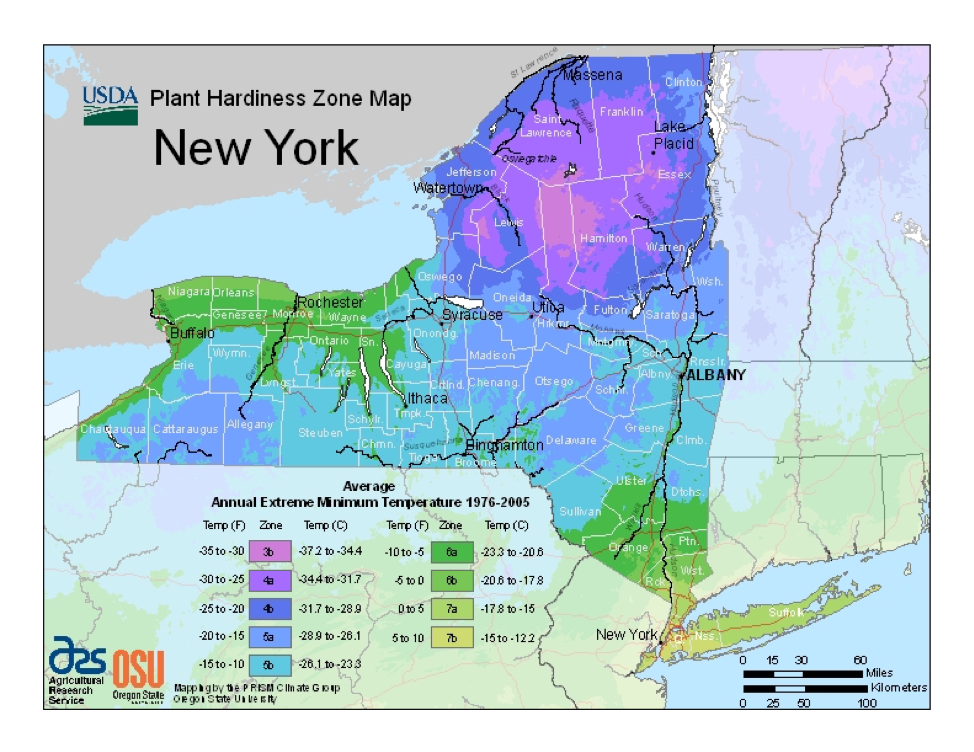 Don't Solely Rely on the Map for Plant Selection
The USDA Plant Hardiness Zone Map is based on average temperatures. It does not account for microclimates like hillsides or open fields. You should start with the assigned zone, but you also need to consider:
The location in which you want to place the plants
Sun exposure, i.e., direct sunlight, partial sunlight, shade
Type of soil, i.e., fertile, clay, sand
The pH level of the soil
Where to Find Plant Lists by Hardiness Zone
The Growing Guides on The Old Farmer's Almanac website provide hardiness zone and the above bulleted information for each plant. Many plant catalogs and websites also organize plants by hardiness zone.
When you retain Curti's Landscaping for landscape design and installation, we will always provide you with plant options that best match the Rockland County, New York hardiness zone and work with your soil and sun exposure – no guessing or researching needed.