An inviting, lushly landscaped yard doesn't just happen overnight. It requires an eye for design and knowledge of the plants and hardscape that will work with the property. And, sometimes, a good amount of excavation work. For over 30 years, Curti's Landscaping has been designing and installing beautifully balanced landscapes for homeowners and businesses, handling everything from concept to completion, like this project in Wesley Hills, New York.
Our client wanted to enjoy spending time outdoors, as well as spruce up the space for wedding celebrations. We crafted a complete design overhaul for the backyard centered around the newly installed in-ground pool that included pool coping, two patios, firepit, retaining wall, stepping stone path, lighting, irrigation, privacy screening and more.
The Prep
The rear of the property is quite sloped. We cut into the slope to create a more usable backyard and to retain the hillside behind the pool and spa area. Once the excavation was complete, we prepped the spaces for the patios, spa, firepit and landscape. We also installed an irrigation system and outdoor lighting.
The Hardscape
The "hard" elements play an integral part of this project's design.
Retaining Wall
For a more natural look and feel, we used large Pennsylvania field stone to build the retaining wall. These stones allowed us to recess the spa into the embankment for privacy, as well as served as jumping rocks into the pool.
Pool Coping
We installed bullnose coping around three sides of the pool. The coping on the rear side of the pool was comprised of fieldstone to seamlessly blend in with the retaining wall.
Patios
Patios of coordinating materials complement each other, while simultaneously separating seating areas. Interlocking pavers were installed around the pool and irregular flagstone was installed around the fire pit seating area.
Fire Pit
A custom fire pit provides a cozy area in which to relax in the evenings and chilly weather.
Stepping Stone Path
Bluestone steppers create an informal path from the driveway to the backyard living space.
The Softscape
All of this beautiful stonework is softened with plantings. Arborvitae and Norway Spruce form a natural privacy screen to enclose the pool area, while a variety of other plants are purposely planted throughout the yard. We also installed sod for a lush, green foundation for the landscape design.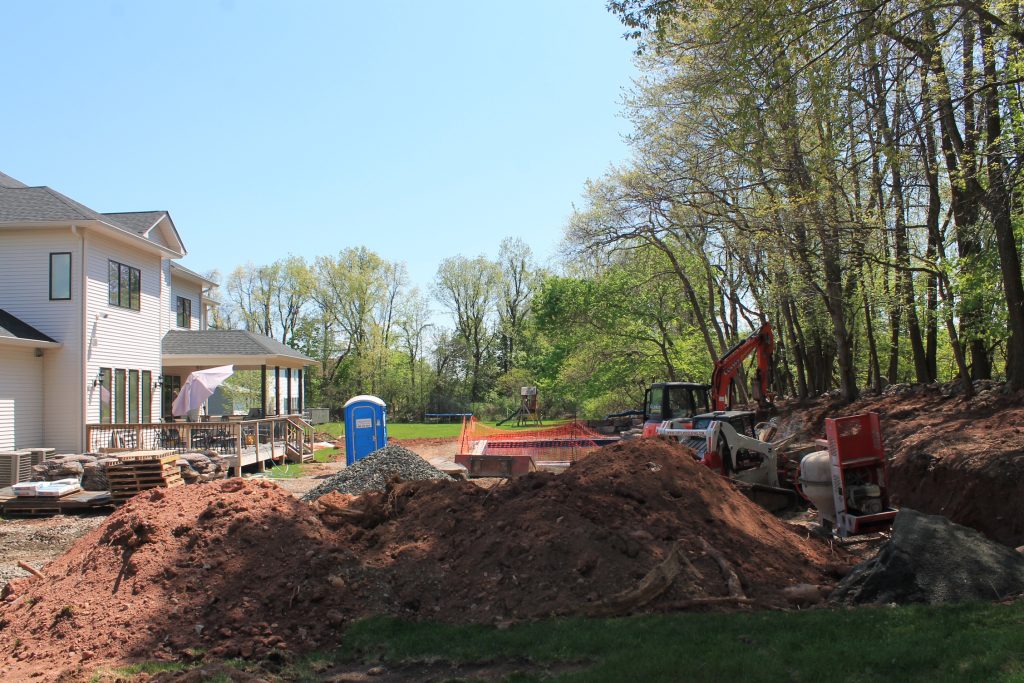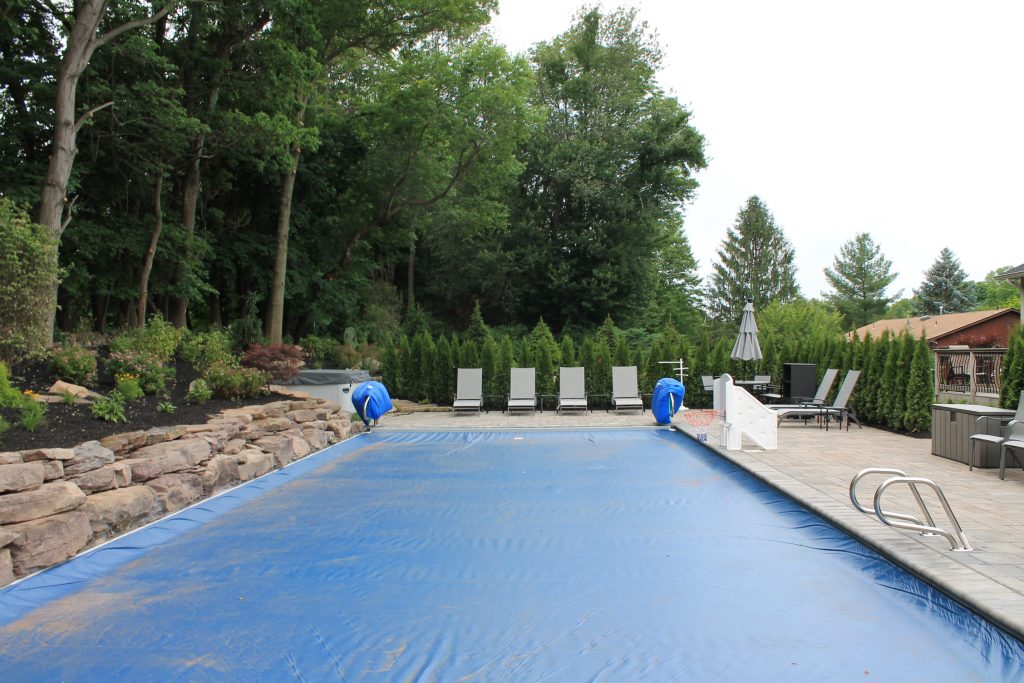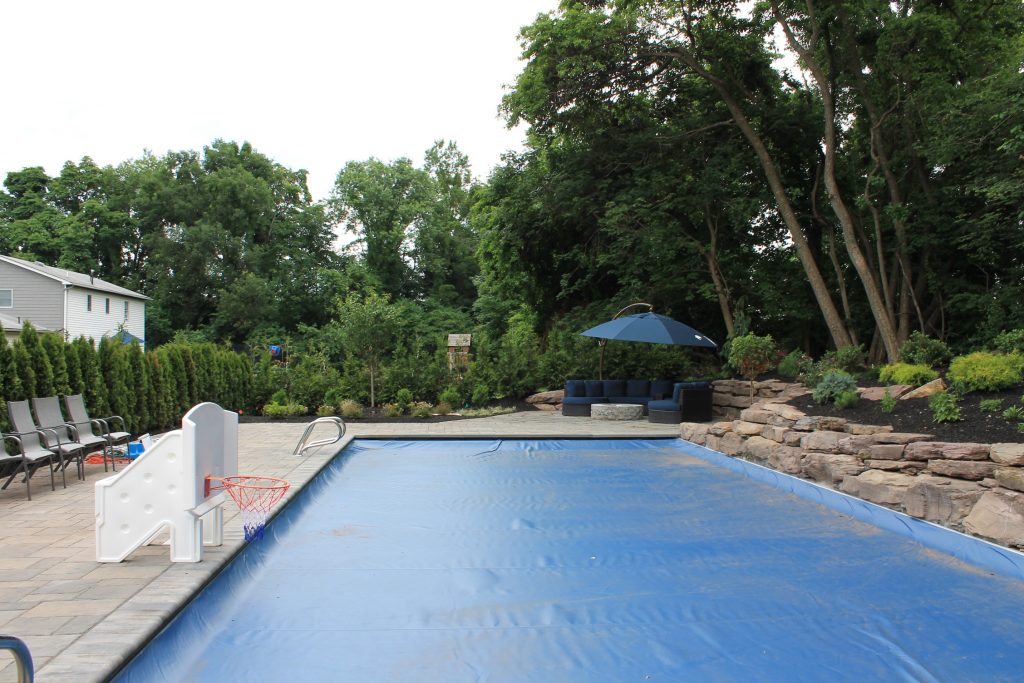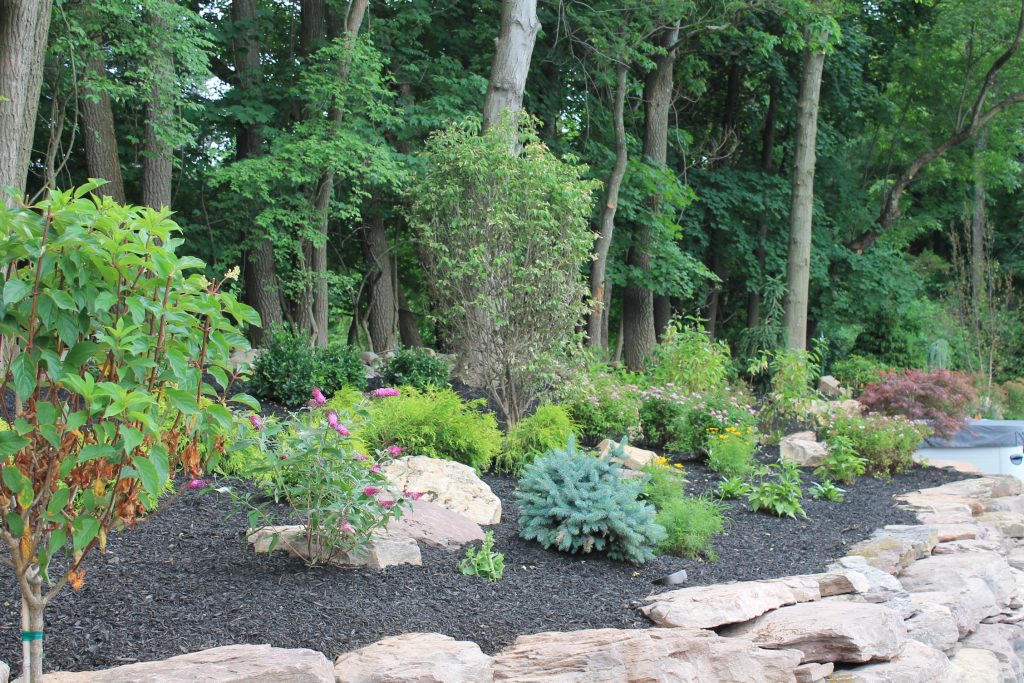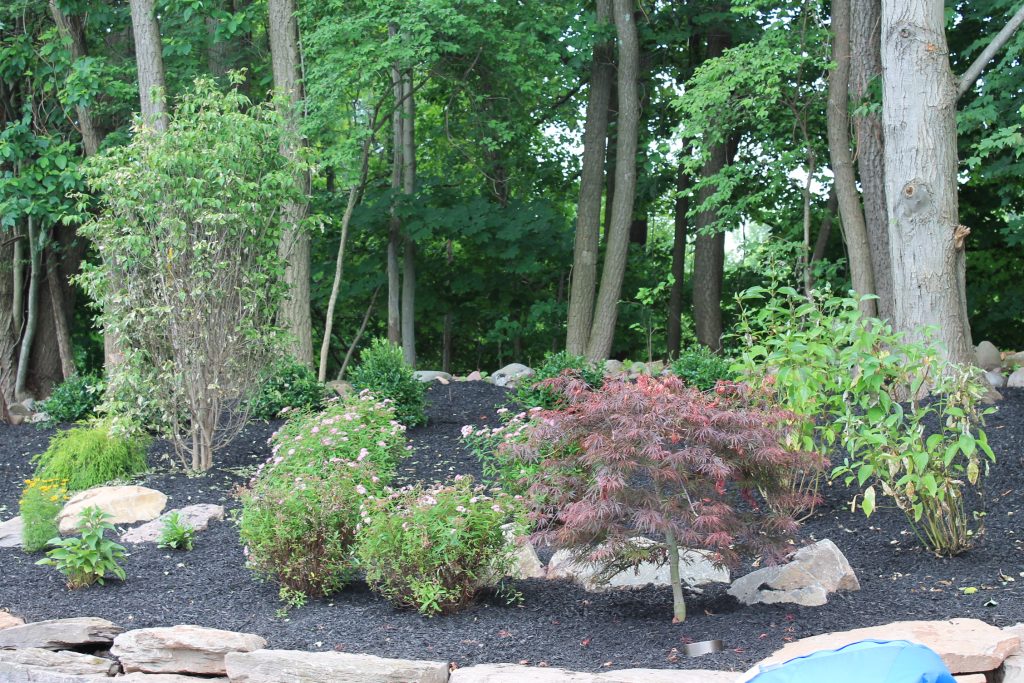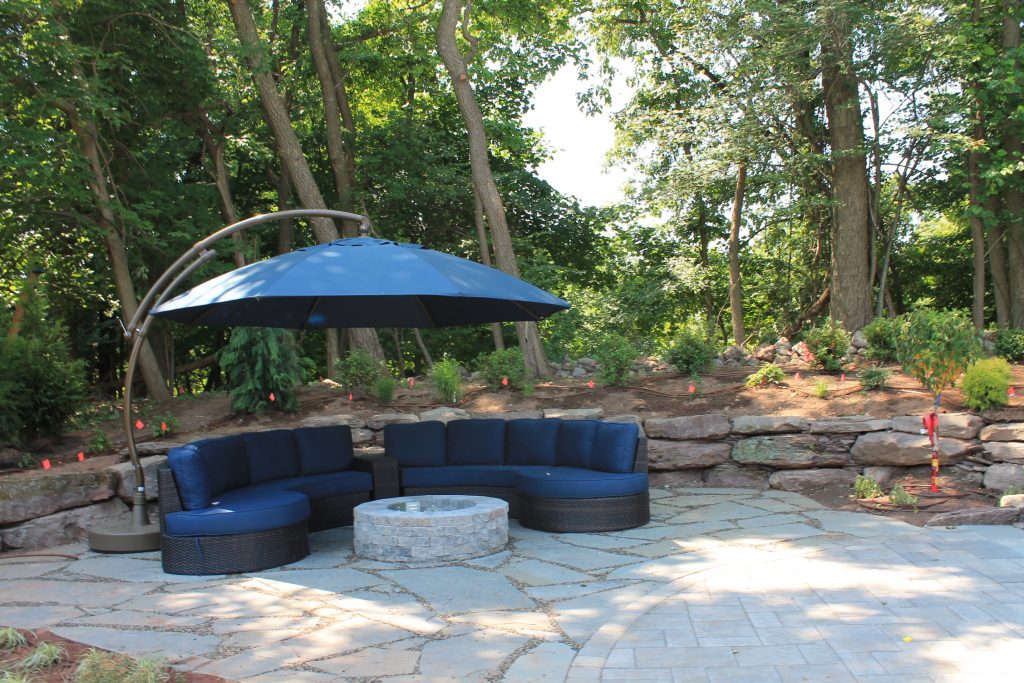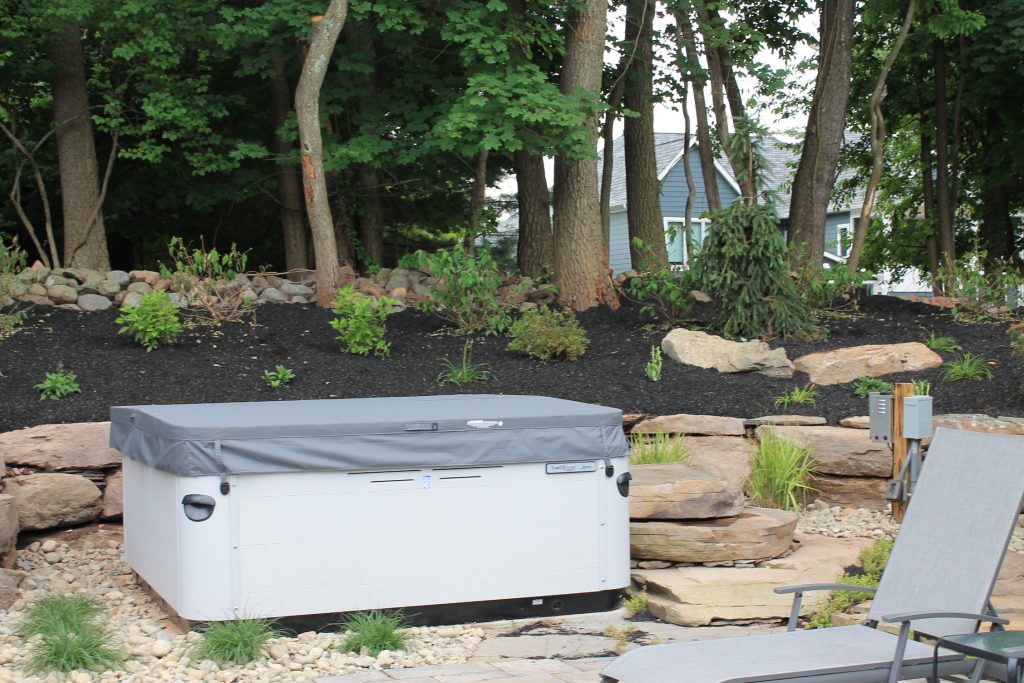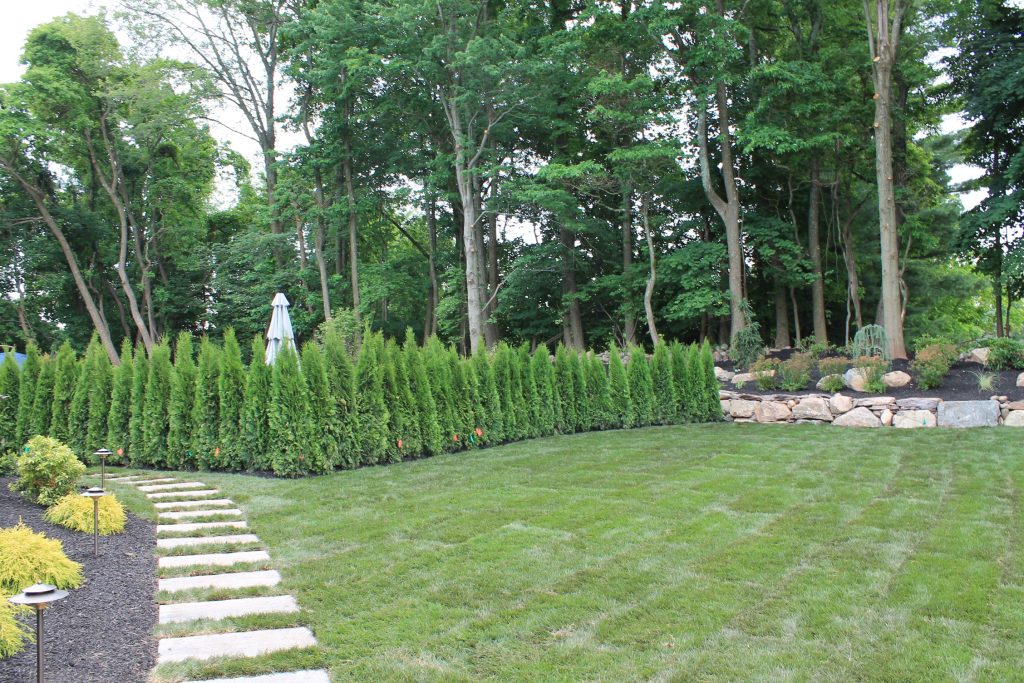 If you live in the Bergen County and Rockland County area and are considering a new landscape design, installation or renovation, give us a call. Our designers are ready to help transform your outdoor space.