Company Profile
The Staff of Curti's Landscaping, Inc., consists of some of the most experienced and knowledgeable people in the profession. Employee turnover is one of the lowest of the industry in our service area. Many of our foremen and crewmembers have been with us for over ten years.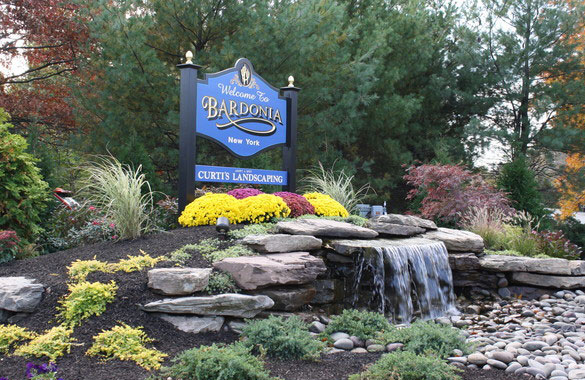 The Staff of Curti & Associates, Ltd. is comprised of highly skilled landscape designers and competent craftsmen. Our team's diverse expertise enables us to design and implement a wide variety of projects and to take them from Concept to Completion.
Our employees have honed their skills at a variety of institutions of higher learning, such as Virginia Polytechnic Institute, Cornell University, and The New York Botanical Garden School of Horticulture & Landscape Design.
Everything we have accomplished has been under the direction of Wm. Scott Curti, CLT (Certified Landscape Technician). The prestigious CLT designation is awarded by the Associated Landscape Contractors of America (ALCA) and effective operation of machinery and showed a thorough understanding of all facets of the position of an exterior Landscape professional through the National Association of Landscape Professionals (formerly PLANET). He is one of only four contractors in Rockland County to earn this designation.
We are dedicated to continuous and diverse training for all our staff and pride ourselves on the many seminars they have attended and certificates of excellence they have earned!
---
Visit Our Sister Companies
---
Meet Our Team
Scott Curti, CLT - Owner, President
2005 Leadership Rockland Alumni
Scott is the president and owner of Curti's Landscaping, Inc. and Curti & Associates, ltd. Scott began to cut lawns in his sophomore year of High School- even purchased his first truck prior to obtaining his driver's license and paid his older friends/"employees" to drive so that he could keep his growing base of customers satisfied. Scott formally founded Curti's Landscaping, Inc. shortly after graduating High School in 1991. At this time, mainly focusing on lawn maintenance, first cutting then adding chemical and other maintenance services he was fortunate enough to rapidly grow to service over 100 customers per season. Curti's Landscaping, Inc. currently provides Full Service Grounds Maintenance programs to a combined 300+ residential, commercial, corporate and industrial clients.
In 2003 Scott earned the international recognition of Certified Landscape Technician- (CLT) establishing credentials by demonstrating mastery of a body of knowledge recognized as the international standard. Scott met standards for safe and effective operation of machinery and showed a thorough understanding of all facets of the position of an exterior Landscape professional through the Professional Landcare Network (PLANET). He is one of only three contractors in Rockland County to earn this designation. Scott is one of the most dedicated young professionals committed to improving the landscape industry throughout Rockland and its surrounding areas. This was recently recognized by the Rockland Economic Development Corporation as Scott was nominated and honored among forty individuals under the age of 40 whose accomplishments and commitment to the community identify them as the individuals to watch in the future of Rockland County.
Since 1997, Scott has been developing a design/build division, which now stands alone as its own company- Curti & Associates, ltd., offers increasingly extensive landscape design and construction services. Scott finds that it has been extremely fulfilling- although slightly tougher, to grow than the Grounds Maintenance company. In recent years, opportunities in Construction have presented themselves through doors opened while growing Curti & Associates, ltd. Scott describes these endeavors as "most enjoyable and successful". He likes to call Curti's Landscaping his roots (which one should never forget), Curti & Associates his trunk (sturdy) and the construction projects his branches (where new growth takes place). Each relies on the other so Scott is quite happy to manage them all day-to-day.
---
John Beaudry - Senior Operations Manager
John came to join, and rapidly climb, the ranks of Curti's Landscaping, Inc., in 1996. Nineteen years of experience with concentration on the design/ build division has brought John to his current role as General Manager and Head Estimator of Curti & Associates. Ltd. John has been instrumental in the development and growth of Curti & Associates, ltd. In recent years, John has eagerly attained the distinguished title of certified installer by many professional hardscape product lines. Among them, Unilock, Cambridge & Techo-Bloc. John also sets himself a step above with his ICPI (Interlocking Concrete Pavement Institute) Certification. He holds a NY State Professional Commercial Pesticide Applicator License. John's long established, yet ever growing role as head estimator keeps him busy greeting new clients, managing existing ones and overseeing his crews to ensure quality and professionalism through completion. He has a great ability to envision just what a client is looking for. That is why over the years, our clients have trusted that projects and properties to John and they are never disappointed.
---
Gavin Miele - Lawn and Landscape Client Account Manager
Gavin started landscaping at the young age of 18 years old, working for a company as a crew leader. He quickly excelled in that company which jump started his own lawn and landscaping business 3 years later. He built his company on the foundation of his dedication, hard work, and loyalty to his customers. In March 2015, Gavin merged his landscape company with Curti's Landscaping, bringing his 33 years of lawn and landscape construction experience as our Lawn and Landscape Client Account Manager for our residential and commercial clients. Many of his clients remain with him after the merge because of his in-depth knowledge and how comfortable they feel with him managing their properties. Gavin has transitioned to be a top-notch senior employee for Curti's Landscaping. When he sells a job, he manages his crews and supervises the job from start to finish, ensuring his customers, new and old, are 100% satisfied with the job.
---
Sam Fava, CIC- Irrigation & Landscape Lighting Division Estimator/Supervisor
Sam joined Curti's in 2008 having had 8 years of landscape and irrigation management experience at the head of his own company. Sam has spent the past 7 years managing our landscaping irrigation and lighting divisions. Using the latest technology in the industry, he aims to have as little impact as possible while yielding the greatest results. He builds irrigation systems that conserve water and automate the process of caring for lawns. Sam accomplishes all of this through spending more time getting to know the needs of each particular lawn and customizing the system accordingly. He manages a full-time shop servicing clients, whatever the size of the project, all year round. Sam happily provides the enjoyment of a greener landscape even after the sun goes down, all the while adding value, security and beauty to your property. Sam holds a NY State Professional Commercial Pesticide Applicator License, NJ DEP Landscape Irrigation License, and is a member and certified contractor of the National Irrigation Association.
---
David Rosenfeld- Landscape Account Project Manager
David began working with Curti's Landscaping, Inc. in 2013 as a snow plow driver/operator. His performance, reliability and professionalism gained him much recognition. So when Curti & Associates, ltd. decided that it was time to seek a full-time project manager David and his skill-set came to mind. The fit was natural and in April 2015, David joined the Curti family full-time in his current position of Landscape Account Project Manager bringing with him over 30 years of landscaping and land development experience. David oversees our landscape design, construction and installation endeavors from our largest corporate accounts to our residential projects, from rooftop gardens to the front stoop of your home. With a desire and eye for perfection, he works with our clients to help bring our eye catching landscape designs and your outdoor living spaces to life!
---
Frank Gelhaus - Equipment Technician
Frank has been at the helm of caring for the company's indispensable equipment and machinery since 2010. He is an expert in dealing with all types of engines, big and small. Frank is the 'go to' guy when it comes to anything with moving parts and then some. He has an unparalleled ability to make anything run optimally. Frank's role as an equipment technician is critically important to all of the crew's for both Curti's Landscaping Inc. and Curti & Associates, ltd. who rely heavily on him. He never fails his co-workers and does it all with a positive outlook and a smile.
---
Office Staff
Kimberley Curti, Nancy Hollis, Nancy Pulcini, Magda Tavarez,
Denise Caroselli, Kirsten Olsen, Melinda Ryan, Jenna Healy & Cori Leitner
This team of ladies exemplifies personalized service. Our office and its operations are our front line for many aspects, especially customer service and communication. We are proud to be the premier fully functional, highly organized, easily accessible, and capable offices in the landscape industry in our area. Our office team can handle virtually any question posed or situation that arises regarding your project or account. You will always get a live person who is ready and willing to help you when you call or stop in.